Steve Smith was seen shadow-batting at the crease during the third Test in Sydney.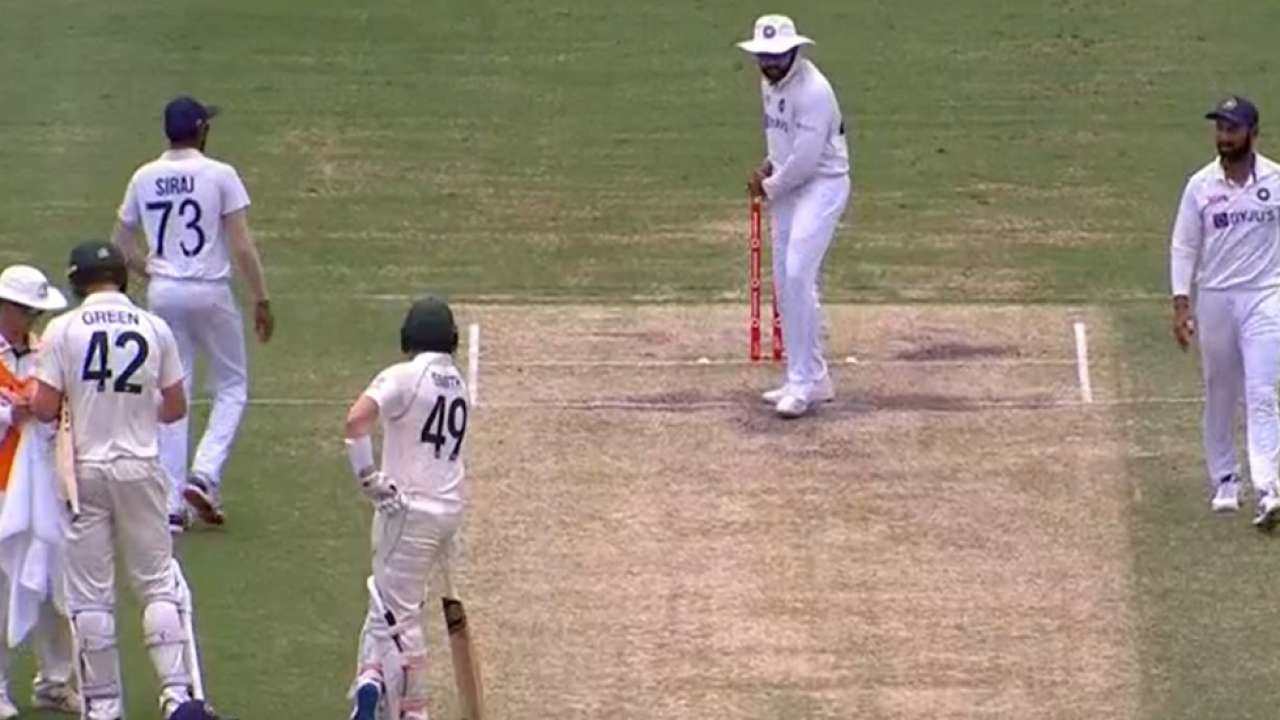 Did Rohit Sharma 'scuff' the batting crease like Steve Smith at Gabba? , Videograb
Updated: Jan 18, 2021, 08:48 AM IST
Australian batsman Steve Smith had come under the radar during the third Test after he was seen removing Rishabh Pant's guard marks on the pitch while he shadow-batted at the crease.
Smith, however, went on to deny all the allegations saying, "I have been quite shocked and disappointed by the reaction to this. It's something I do in games to visualise where we are bowling, how the batter is playing our bowlers and then out of habit I always mark centre".
However, something similar happened on Day 4 of the fourth Test and this time it was Rohit Sharma who was seen shadow-batting.
Just a few minutes before lunch, Rohit Sharma was seen shadow-batting on the pitch between overs and replays suggested that he did mosey on the footmarks around the crease. 
Commentator Sanjay Manjrekar even said, "If Smith was wrong at Sydney, then this is wrong too". He also added that "Good thing Smith didn't react to any of those".
While it looked the same as Smith's action, but Rohit Sharma's body language and the wry smile suggested he was mocking/teasing the Aussie batsman.
Seeing this incident take place got netizens talking as they started comparing both the incidents.
Big difference between the two.

1.) Rohit didn't scuff any of the ground on the batting crease.

2.)Rohit didn't shadow bat as a left hander

3.) Rohit is yet to bat again in the test, Smith was done batting in Sydney.

— rajeshlover (@RajeshBV13) January 18, 2021
Rohit created Raina moment & Also created Smith moment  Recreate karne ka shauk hain isse#AUSvsIND

— (@Hippie_Gall) January 18, 2021
Rohit Sharma shadow batting in front of Smith pic.twitter.com/grWJU6eXRA

— Omkar (@omkar_gs) January 18, 2021
I'd like to think Rohit was mocking Smith here. No other reason to do this in the very same Test  https://t.co/4oGXSYgBiO

— Rohit Sankar (@imRohit_SN) January 18, 2021
Rohit doing a Steve Smith @ImRo45#INDvsAUSTest #IndiavsAustralia #AUSvsIND #RohitSharma pic.twitter.com/W1t1GiyCLG

— D s 45 (@imDs45) January 18, 2021
Speaking about Steve Smith's incident, skipper Tim Paine had said, "He is really disappointed with the way it has come across. If you watch Steve Smith play Test cricket that is something he does every single game five or six times a day. He does this a lot.
"He is always in the batting crease batting. As we know he has those many Steve Smith quirks. One of them is that he was always marking the centre. He was certainly not changing (Pant's) guard. I imagine if he was the Indian players would have kicked up a bit of a stink at the time. I have seen Steve do it many times in Tests and games I have played against him. He likes to visualise how he is going to play. Yesterday you could see him up there playing shots as a left-hander to where he wanted Lyono to pitch the ball".